Cucumber provides flexible framework for writing BDD-style automated acceptance tests. Cucumber was originally implemented in Ruby, but currently implementation exists for various languages including Ruby, Java, .NET, Flex and many more. This tutorial presents example of implementing Cucumber acceptance tests in Java using Cucumber-JVM, Maven and Selenium.
In this tutorial, the Vaadin Addressbook tutorial application is used as test target for which the tests are implemented.
TLDR: Give me the ready solution
The test code implemented in this tutorial, with a clone of Vaadin Addressbook application, is available from my GitHub account. If you want to jump right into running tests, you can clone the ready solution and execute tests using maven:
Step 0: Clone the application and add dependencies
To get started in this tutorial, we need to clone the test target code from GitHub:
Run the application
To get familiar with the Addressbook application, you can start-up the application with maven:
When started, the application can be accessed via browser in localhost:8080: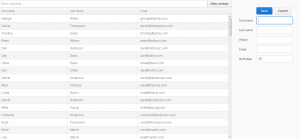 Add test dependencies
To begin our test development, we need to add needed JUnit, Cucumber and Selenium libraries in the project /pom.xml file as dependencies. Add following dependencies:
Step 1: Write Cucumber acceptance tests
First, we need to define the tests for Cucumber. Cucumber uses Gherkin DSL (Domain Specific Language) parser to parse domain-specific plain text test specification. The plain text test specification follow the BDD-style "Given…When…Then…" pattern to define pre-conditions, system behavior and expected post-condititons.
After familiarization with the Addressbook application, we identified three main features of the Addressbook application:
Adding persons to contact list,
Searching persons from contact list, and
Updating persons in the contact list.
Next we create Cucumber test specification for these features. In Cucumber-JVM the test specifications for features are stored by default in /src/test/resources/<package>/<feature-name>.feature directory.
Define add feature in file: /src/test/resources/feature/contact/add/add.feature:
Define search feature in file: /src/test/resources/feature/contact/search/search.feature:
Define update feature in file: /src/test/resources/feature/contact/update/update.feature:
Step 2: Implement Java tests for defined features
After defining the scenarios, we need to create corresponding test classes in Java. In this tutorial we are using Cucumber JUnit runner to execute tests using JUnit test framework and we need to define the corresponding test classes for the add, search and update features: Create add feature test: /src/test/java/feature/contact/add/AddContactIT.java:
Create search feature test: /src/test/java/feature/contact/search/SearchContactIT.java:
Create update feature test: /src/test/java/feature/contact/update/UpdateContactIT.java:
Step 3: Implement Selenium mapping to Addressbook
Next we need to create support for controlling the Addressbook target application using Selenium. In this tutorial we used PageObject pattern to separate the Selenium functionality into a separate page object class.
Create Addressbook page object: /src/test/java/pages/AddressBookPage.java:
Step 4: Map Cucumber test steps to page object
After creating the test classes and Selenium page object, we need to implement Cucumber test steps and map these to the created Selenium page object. For clarify and reuse, we define the steps in separate steps package. As seen in the Step 2, we used @CucumberOptions annotation and glue attribute to define the location where Cucumber tries to find corresponding step definitions.
Create Java step definition file: /src/test/java/steps/ContactSteps.java:
Step 5: Configure execution of tests in Maven
To execute tests, we need to configure the execution of tests in project /pom.xml file. We defined the tests as integration tests (*IT.java) and use the maven-failsafe-plugin to execute these tests as part of the maven integration-test lifecycle. In addition, jetty-maven-plugin is reconfigured to start the test target in maven pre-integration-test lifecycle, and stop it in post-integration-test lifecycle.
Update /pom.xml with following build plugins:
Step 6: All done, Enjoy!
Now we have a working Cucumber-JVM example using JUnit, Maven and Selenium. Execute tests via maven:
and observe the results:

The html formatted Cucumber test reports can be found from the /target/results/ folder as defined in @CucumberOptions in Step 2.
Enjoy!
---